A couple posts ago I shared with you all about the company Shutterfly and how we got our Christmas cards made through them this year. They tuned out just beautiful and we couldn't be happier with them.... not to mention, they were free! If you are a blogger, and would like to receive 50 free Christmas cards yourself, you can do what I did and advertise for them on your blog (see details
HERE
).
And that's not all! Shutterfly just keeps giving! Today I found out that they are doing another offer for bloggers. If you share a photo project on your blog, they will send you a $25 gift certificate! Below are the details if you'd like to get yours!
"Help us (Shutterfly) spread the word. Embed a project and receive a $25 gift certificate. Here's how:
Embed your project on a blog or Web site you own. Email an active link (no screenshots, please) to the Web page containing your embedded project to: shareproject@shutterfly.com. We will confirm placement and reply to your email with a discount code.
1.Login to your Shutterfly account
3.Choose one and click "Share Project"
5.Embed the code on your blog
Below you can check out my latest project. It's the beginning stages of Micah's birthday party invitation and I think it's looking just adorable!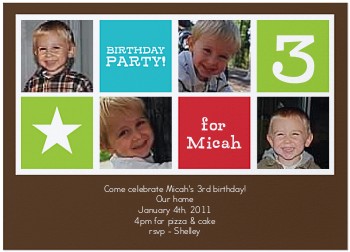 Star Squares Chocolate Birthday